High volume litho printing
Litho Printing in Edinburgh
Litho printing is the more traditional form of printing, and is suitable for higher volumes and smaller jobs that require exceptional quality. It's also good for printing on heavier stock and for producing special colours – Pantone inks for example.
Our main production hub has massive print capacity. We can produce virtually unlimited quantities, so this type of printing is very useful for long run leaflets and flyers, as well as larger booklets and brochures.
The Environment
Print production in an ethical and environmentally friendly way is crucially important to us. Our hub's Environmental Management System had independently accredited to ISO14001, which means that we are continually assessed on our environmental objectives, policies and plans.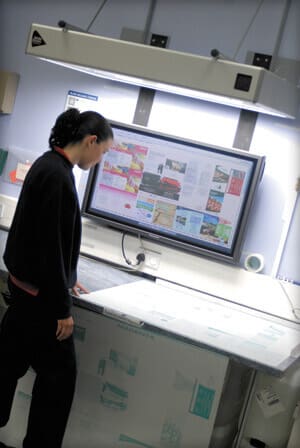 Our main printing machines are:
2001 Komori Lithrone L440 4colour with anilox coating tower

2003 Komori Lithrone LS440 4colour with anilox coating tower

2006 Komori Lithrone SP440 4 colour "double decker" with duplex anilox coater
All presses are fully automatic and feature KHS pre-inking; utilising CIP data from prepress, and x-rite fully automatic scanning spectrophotometers to reduce waste and makeready time, and control both presses whilst running.
Technotrans RO water supply

Betz ink pumping system

Intech pile turning

ML systems humidification control – To ensure consistent environment for paper and machines
2004 Polar 137XT guillotine with transomat stacking robot

2002 Polar 137ED Autotrim guillotine

2013 Polar 115N Guillotine

Polar RA4 jogger with de-aeration rollers

Polar weightronix sheet counting

Polar CW 1000 stack lift

2003 Heidelberg Stahlfolder TD78 4/4 & mobile knife with Heidelberg VSA86 stacker

2013 Stahl Folder KH78 with Heidelberg SPH70 delivery

2003 Heidelberg ST100 4 station saddlestitcher with cover-feeder

2003 Bobst Evoline 102 autoplaten

2003 Autobond compact 102 B1 perfecting thermal laminator

2015 Warrior Electric Round Corner Cutter

Citoborma 280 ab multi-head drill

2 x Hugo Beck Shrinkwrappers

2 ATS Auto-Banders

1 ATS Stanbd-Alone Bander

Jungheindrich Counter-Balance Fork Lift Truck

ML systems humidification control